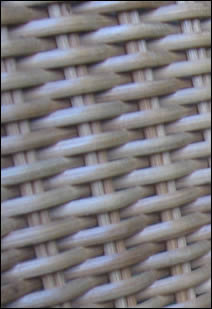 Many modern and antique chairs have cane or rush seats; these wear out, get stepped on, and broken. Antique chairs for the most part are worth repairing. It is essential to reproduce the original workmanship to preserve the inherent value of the piece. Your chairs may be favorites that work well in your home or have sentimental value to your family.

Whether it's an heirloom or a chair that holds sentimental value, the Chair Caners can restore your fine chairs to their original condition. We are a full service caning and re-rushing shop, specializing in splint and woven seats and chair backs in cane or rush weave.

We provide caning, rushing, wicker, and other types of weave repair. If you are unsure of what you have, give us a call. We'll determine what it is and how we can help!